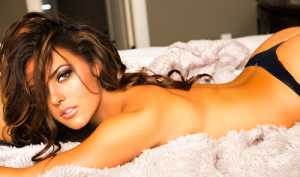 First date deal breakers for men are something to take into serious consideration if you're looking to make a lasting impression or get that second date.
Luckily for you we have the lovely Tasha Wall here to help clear up some of the confusion.
Tasha, take it away..
First Date Deal Breakers For Men
BEING STINGY 
If YOU asked ME out on a date, we should not half the bill.
GETTING DRUNK
You can have a couple drinks but leave it at that.
BRINGING UP THE EX 
We don't want to hear about it. Not yet anyway.
Awkward silence makes us uncomfortable and ready to go home. Say anything, ask how my day went and we'll take it from there.
BEING LATE
It makes it seem like you don't care and is just plain rude.
COCKINESS 
Confidence is hot, cocky is not. Nobody wants to spend time with someone who is obsessed with themselves.
YOU LIVE AT YOUR MOM'S
Let's be honest, there's nothing attractive about that at all. No reason could make this OK.
A REALLY BAD KISS 
If your going to kiss me at the end of the night, don't aggressively shove your tongue down my throat in hopes of it turning into a make out sesh. Keep it short, sweet and soft.
FLIRTING WITH THE WAITRESS 
Really? Everyone likes some harmless flirting, but save that for guy's night out.
NO SENSE OF HUMOR 
If you don't make me laugh at least one time, I'm probably bored.
As far as first date deal breakers for men go, these are spot on guys.  Relax, enjoy yourself and you'll have a great time and odds are you'll be on the next date in no time.
Tasha teaches people about healthy lifestyle and how to keep weight off forever with life changing results both inside and out. Check her out at tashawall.com, on Facebook and follow her on Twitter @tashawallfit.
Photo credit: Satio Photography (top)